Direct Aiming X-ellence Station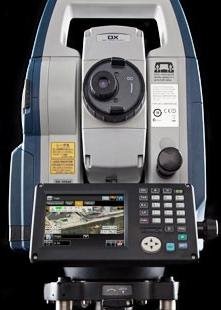 • Upgradable Auto-Tracking Technology
• Advanced Angle Measurement System
• RED-tech Technology Reflectorless EDM
• LongRange Data Communication
• MAGNET™ Field On-board Software
New Auto Pointing "Direct Aiming Technology"
The DX Series employs "Direct Aiming Technology" featuring a new intelligent algorithm that automatically aims to the prisms with precisely corrected angle readings. The technology works even in dim or dark conditions where the prism is difficult to be found. Whatever the job requires and wherever operators must go, the DX Series gets your job done faster and easier while still maintaining high accuracy.
DX Direct Aiming Technology with Optional Auto-Tracking Upgrade
The DX Series, with Direct Aiming Technology, is faster than manually sighting a prism. In addition to automatic aiming, the DX can be upgraded, via firmware, to track a moving prism. This function eliminates the need for an operator to stand at the instrument, turn, and sight the prism. The operator can control the instrument from the prism pole as a one-man robotic system. This enhances productivity and minimizes personnel costs.
RED-tech Technology Reflectorless EDM
• Reflectorless operation from 30cm to 1,000m.
• Sokkia's traditional pinpoint precision in reflectorless distance measurement.
• Fast distance measurement of 0.9 seconds.
• Coaxial EDM beam and laser-pointer provide fast and accurate aiming.
• Ensures accuracy even with reflective sheets.
LongRange Data Communication
The DX Series total stations feature Bluetooth® Class1 technology for reliable data communications.
Advanced Angle Measurement System
Sokkia's original absolute encoders provide long-term reliability in any job site condition. DX-101 features groundbreaking IACS (Independent Angle Calibration System).
Waterproof and Rugged
• IP65 waterproof / dustproof rating.
• Standard usage temperature range -20ºC to +50°C.
Easy Auto-Tracking Upgrade
The DX can easily be upgraded by purchasing the Auto-Tracking upgrade. Software can be installed
when you purchase the DX or at a later time when you have a project that requires Auto-Tracking.
The DX Series firmware can be upgraded to automatically track a prism. This USB upgrade process is simple and will enhance productivity.
Easy "Topo" and "Stake-out" Operation
Just "Rough Aim" and "Press Trigger Button" to get precise aiming and measurement to the prism target. Stake-out can be done easily by automatic turning and guide lights.
Software
MAGNET™ software is tailored for use with Sokkia total stations in both field and office works.
MAGNET™ Enterprise
A managers dream of tracking all field and office data in one simple to access web interface. Store and exchange your field data in the MAGNET Enterprise cloud. Save the drive time by sending your field and office updates to the cloud rather than driving back to the office.
MAGNET™ Office
Full CAD functionality with MAGNET Office Site and Topo. Or field data processing with MAGNET Office Tools inside AutoCAD® products, like Civil3D®. The MAGNET Office solution has what you need. Pick the module that fits your needs.
MAGNET™ Field
Powerful on-board software that covers full functions for surveying and engineering tasks. MAGNET
Field handles data collection, stake out, roads and coordinate geometry.
Kit Components
DX Series Total Station
Battery x2 (BDC70)
Battery charger (CDC68)
Power cable
Lens cap
Lens hood
Tool pouch
Screwdriver
Lens brush
Adjusting pin x2
Cleaning cloth
Operation manual
USB memory
Laser caution sign-board
Carrying case
Carrying strap x2
This information is taken http://global.topcon.com