Whether you have to precisely layout a construction site, performcontrol measurements, collect height and angle data, align concrete forms, install ceilings and partitions, lay gravity flow pipe, locate underground services or complete site preparation and earthworks Leica Geosystems offers the right instrument, construction laser or machine control installation specifically designed for your construction application.
Easy-to-use, jobsite tough, accurate and reliable Leica Geosystems instruments and lasers ensure the efficient use of your materials and resources. High quality products, such as optical and electronic levels, construction lasers, total stations and machine automation systems, provide fast results, keep you working and increase your profitability. When it has to be right.
Discover the Leica Builder for your task.
Still using a measuring tape or an optical theodolite? Do you need a tool that fulfils all measuring tasks on your construction site with ease, regardless of your profession? The Leica Builder does it all for you trouble-free, accurately and much quicker. Simply discover the Leica Builder for your task.
1. Profile Boards
Builder does it all: Setting out boards, transfer alignments to/from boards or simply storing all board data in the builder.
Your benefits:
Precise transfer–directly from plans to the jobsite
No tapes, strings, or plumbing-up required
Re-setting damaged/missing boards take minutes
2. Line Layout
Columns, formwork, greenhouses, racking, fencing lines, structures or terraces. Builder takes reference lines, alignment and curves in its stride.
Your benefits:
Simple alignment of structures along the lines
Easy transfer of line and offset values from the plan
Straightforward layout in inclined
3. Volumes
How much m³ did you really move today? Cutting to formation, mass haul, cut/fills, stockpile monitoring keep right on top of your earthworks progress with Builder.
Your benefits:
No more rough-guessing of truckloads
" Fast and accurate volume determination
" Digital protocol terrain
4. Checks
Is that formwork vertical? Sufficient clearance between crane and roof? Are those walls parallel? Is the drainage at the right grade? Are this true 90°?
Your benefits:
" Checks in situ, precise and immediate
" Measure to non-accessible points
" Hardly possible with plumb bob and tape
5. As-Built
Carpenters, landscapers, stage builders, architects, utilities companies, steel and façade constructors all use Builder to record as-builts quickly and accurately.
Your benefits:
" Stores "as built" data for client records, e.g. for future reconstruction
Data storage in the Builder or externally via interface
" Easy integration in the CAD planning process
6. Area
How many roof tiles? Want to be doubly sure how much asphalt to order for the parking lot? Will those windows fit? Builder has the answer in m².
Your benefits:
Ideal for tender preparation for surfaces of all kind
Facts immediately on the spot
1-person mode via reflectorless measuring saves cost and time
Simple capturing of inclined surfaces
7. Height Transfer
Transfer of reference heights, define datum lines, marking ground floor elevations, checking remote heights also vertically the Builder is powerful.
Your benefits:
" Height transfer in one work step
" Height differences are no problem
" Only 1 person required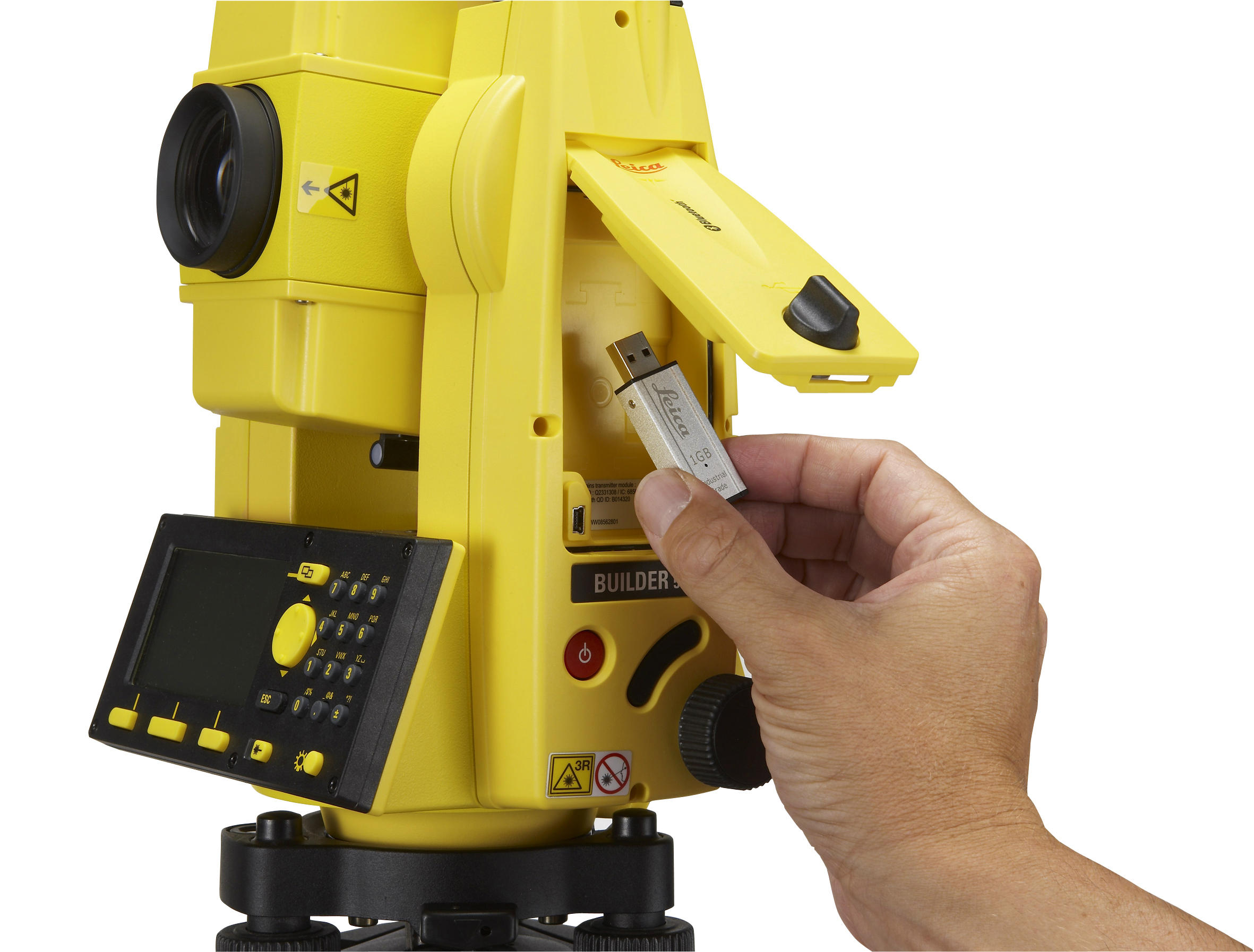 Leica Laser Technology
Excellent signal strength and pinpoint accuracy, where you need it most.
Your benefits:
" "Know what's being measured"
" Precise measurement to corners and edges too
Data exchange via USB Stick or Bluetooth
Your benefits:
" Handy removable data storage
" Cable-free and fast connection
" New plan loadable simply on site
PowerSite Software
Professionals appraise the Builder's on-board programs designed to be the right tool for every job.
Your benefits:
" A solution for every application
" Amazing ease of use
" Versatile and fast to learn
Simple, clear & intuitive Graphical
Interface and best-in-class display technology
Your benefits:
Graphical assistance thanks to spacious display
" Class-leading visibility, in all light conditions
" Graphic supports daily work flow
Setup with Control Line or coordinates
Existing axis form the reference line for the Builder.
Your benefits:
" Same procedure as known from working with the tape
" Work with line and offset values straight from the plan
" Free choice of setup positions
Multilingual support
The world is getting smaller, Builder is prepared.
Your benefits:
" Switch between 3 languages of your choice
" No errors due to linguistic misunder standings
" 25 languages available
This information is taken www.leica-geosystems.com